Be it the crunch of a perfect crouton or the doughy softness of a fluffy loaf that you love, bread makers are the perfect kitchen companion. But what's the best bread machine flour?
Below, we take a look at the wonderfully curious world of flour and investigate the question of what flour is best to use in bread makers? At first glance, it may not seem like an important decision to make. However, as many experienced bakers will tell you, different flours are used for different bread types.
We're here to tell you exactly what flour you need to create the most delicious bread in your bread maker.
Bread Flour vs All Purpose Flour
Bread flour, sometimes called bread machine flour, is what most bread maker recipe books say to achieve the best results.
But what exactly is bread flour? If you have no experience in baking, then the term itself may be completely alien to you.
To put it simply, bread flour is flour that has more protein than all purpose flour.
Bread flour has more protein (and therefore more gluten) and will rise better during the cooking process and hold its shape better.
What Is Bread Machine Flour?
Certain brands of all purpose flour do have higher protein counts. If you find one, they are a fine substitute for bread flour if the rise and shape of your homemade bread are your main concerns.
However, it also depends on what kind of bread you are baking. For example, bread flour or high protein all purpose flour is great for making high-rising bread. But, if you want denser bread, then whole-wheat flours are your best choice.
Another question you may ask is: just what is bread machine flour?
And the answer is that there is no specific flour for bread machines. While there are bread flours, there is no flour made specifically for bread machines.
Whole Wheat Flour vs White Flour
Whole wheat is a term that gets thrown around a lot in the age of healthy bread baking, but many people don't actually know what whole wheat means.
The part of the wheat plant used to make flour, the wheat berry, comprises three parts: the bran, the germ, and the endosperm.
A wheat berry is like a nesting doll. The bran is the outer shell, the germ the inner part, and the endosperm the innermost part.
Unbleached white flour is made from only the endosperm, while whole wheat flour, as the name suggests, is made from milling the entire wheat berry. This is why whole wheat is darker, and breads made from it taste different and have heavier densities than those made with white flour.
Whole wheat flour contains more fiber, minerals, carbohydrates, and B vitamins than white flour.
This brings us to…
What's the Best Flour for a Bread Maker?
The type of flour you use isn't as important as the quality of that flour. Quality matters. High quality or at least better quality, flour makes a large and noticeable difference when baking bread.
High-quality flours tend to have more protein, which makes for a better loaf. Conversely, low-quality flours may result in bread that tastes different, doesn't rise as evenly or well, and may lack nutrients.
Deciding on the best bread machine flour depends on what kind of bread you're trying to make as well. Some brands cater to a wide variety of tastes and needs. Take some time and look around your local supermarket or put Google to good use.
You should also keep a sharp eye out for flours that haven't been bleached or 'whitened' (which is really just another way of saying that it's been bleached), as there really is no reason why your bread needs to be white as snow.
Best Flour for Gluten Free Bread
It's very tricky to pinpoint the best flours for baking gluten free bread.
There are certainly flours out there without gluten, but you want to be sure that they haven't treated it with chemicals to achieve that. Read the labels, and perhaps even research the brand.
There are plenty of health food shops out there too, and they often have a selection of brands and flours that cater to gluten free diets.
There are also two important things to consider when baking gluten free bread:
They will not bake the same as doughs made with regular flour. Gluten free doughs are naturally denser, meaning that when baked, they will not be as fluffy or light in texture.
Not all bread machines can handle gluten free dough. Because the gluten free dough is thicker, it requires stronger mixing paddles (if your machine also mixes the dough) and different cooking times. Keep an eye out for bread makers that have a gluten free setting, and you'll be golden.
Our Recommendations for the Best Bread Machine Flour
Here are a few of our top recommendations when it comes to the best bread machine flour you can purchase.
But again, consider the rise and shape you want, and remember, the best flour for your bread machine is the best flour you can buy for what you want to accomplish.
Bob's Red Mill Organic Unbleached White All Purpose Flour
This organic hard red wheat flour is perfect for your homemade bread recipes because it has high protein content, it is unbleached, organic, and unbromated. It has all the qualities of a good flour for homemade bread needs.
King Arthur Flour
This whole grain, unbleached bread flour is a great choice if you are making high-rise yeast bread or rolls. It is the perfect flour to use in bread machines and is certified organic. However, it does have a slightly lower protein count than King Arthur All Purpose Unbleached Flour, which is another great choice.
Anthony's Brown Rice Flour
This bread machine flour option is gluten free and one of the more affordable gluten free options you can find. In addition to being a good flour for bread, it is also great for baking cakes and pastries. The brown rice is stone ground, making the flour softer and grain-free.
Great River Organic Milling Whole Wheat Bread Flour
This flour is a great choice for baking breadsticks, bread loaves, and even pizza dough in your bread maker. It has all the nutrients found in wheat and can help your bread maker create a loaf that is evenly risen. There is no need to add any extra gluten when you use this flour in your bread maker.
White Lily Bread Flour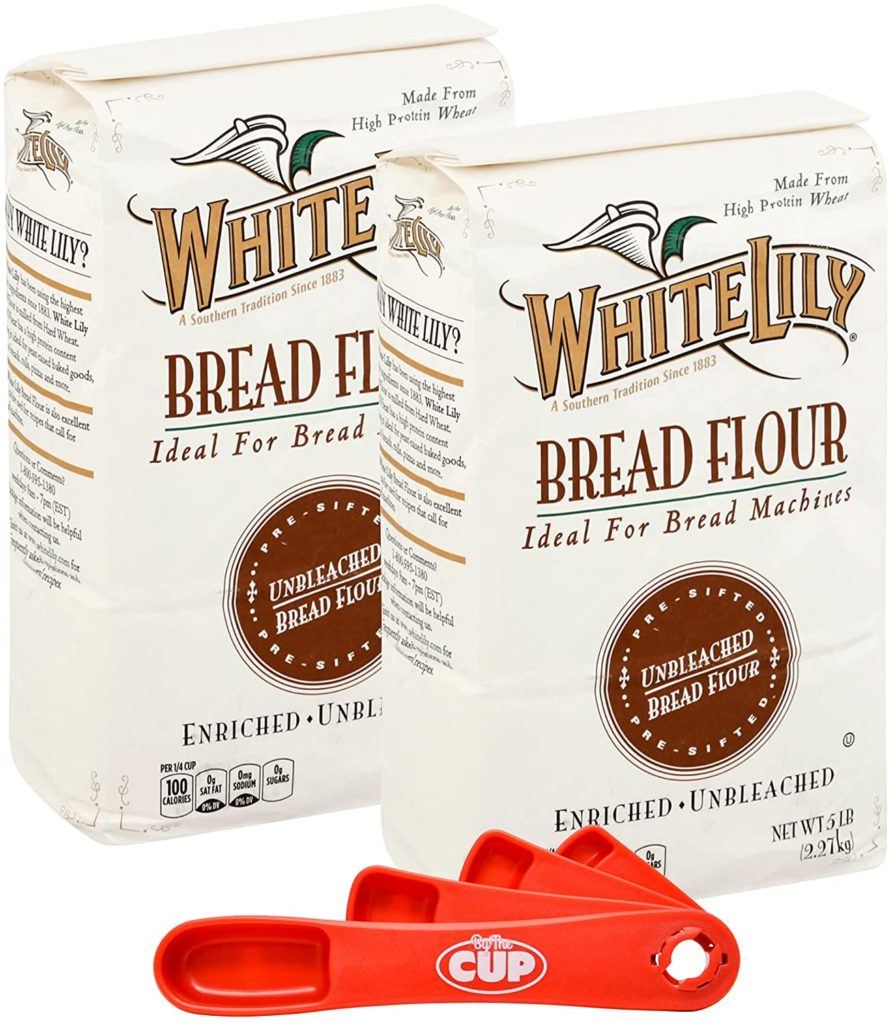 This bread flour is unbleached, enriched, kosher, and non-GMO. It is made from a higher protein hard wheat and is the ideal bread flour to use for yeast-raised bread, rolls, pizza crusts, and other baked goods.
What Is the Difference Between Bleached and Unbleached Flour?
When looking at the differences between bleached and unbleached flour, you will find that bleached flour is whiter in color, has a finer grain, and has a much softer texture. On the other hand, unbleached flour is a much denser grain type and has a tougher texture.
To get bleached flour, it is treated with chemical agents used to speed the aging process. As a result, both flours can be used interchangeably in recipes.
Bread Maker Troubleshooting Tips
If you have finally landed on the perfect flour for your bread maker but find yourself still running into issues, check out our troubleshooting tips below.
My Bread Loaf Keeps Sticking to the Bread Pan
Even if the bread maker you use boasts of a non-stick loaf or bread pan, the bread can still sometimes become over-attached. Avoid putting the loaf pan of a new bread maker into the dishwasher, as this can harm the non-stick coating. Also, before adding your ingredients to the bread maker, rub the inside of the pan with some oil to help prevent any sticking.
My Loaf Collapsed or Sunk in the Middle
This is a pretty common problem when using a bread machine and can be due to several things. First, always make sure your measurements are accurate when baking. Even a small change in the volume can drastically change the outcome of your homemade bread recipe.
Next, make sure the bread machine yeast and the flour you use are the right type for the recipe you are following.
Finally, if there is too much liquid in your bread dough, it can sink. After kneading the bread dough, it should be smooth and round. If it is too wet, you can add a bit more flour.
See more: How to stop bread collapsing
My Bread Is Too Dense
If you didn't use the right flour or you used rye flour or whole wheat flour for certain recipes, you will find that these flours can cause the bread to become much heavier and denser. A strong white flour can be swapped out in this case. Just make sure to check the consistency of your bread dough before you bake it.
Final Thoughts
The best flour for bread machines in most cases is bread flour.
Google phrases like 'best bread machine flour,' and you will definitely get a plethora of answers, and don't be shy of poking around in the comments or reviews sections from people who have used the products themselves.
Now go and bake your heart out!
What do you think — what's the best bread machine flour?